A biweekly newsletter about the future of postsecondary education in prisons. Written by Open Campus national reporter Charlotte West.
College Inside
Sign up for the newsletter
A biweekly newsletter about the future of postsecondary education in prisons. By Charlotte West.
In case you're short on time:
• This week, we're looking at how tech training in prison has — and hasn't — changed since 1970. Read the rest of the story in Slate's Future Tense.
• On Feb. 28, we'll be hosting an event, Pell in Prisons: The Gap Between Hope and Reality, from 3–4:30 pm eastern. Sign up here.
• I'll be doing a workshop for prison educators with the Bard Prison Initiative on "How to Talk to Journalists" on Feb. 24 at 1 pm eastern. You can register here.
IYCMI: Earlier this month, we published an essay by Lyle C. May about how gaining a higher education inside is the ultimate act of resistance.
'A chance to escape from the past'
A slight man wearing horn-rimmed glasses and a suit with a pocket square gestures as he stands before a group of men in blue jumpsuits. They listen attentively. A guard tower and chain link fence loom in the background.
"He offered these Arizona State Prison inmates a chance to escape from the past," the caption reads. "Could there be a future in computer programming for prisoners?"
That's from an ad in Scientific American that's more than 50 years old. Yes, 50 years. Not much has changed in conversations about prisons, education, and technology since then.
The benefits of tech training in prison were already known in 1970. People are less likely to go back to prison if they have marketable skills that lead to jobs in high-demand fields with liveable wages. But despite the promise of such programs, the pitfalls also remain the same: they can be costly; they can be difficult to scale; and they are subject to the whims of tech-averse prison officials.
While the pandemic helped make technology like tablets more common in prison, perceived security risks often trump opportunities for learning and rehabilitation, with officials worrying that people might abuse them. As much as technological advances have allowed more wide-scale access to tablets, they can just as easily be taken away.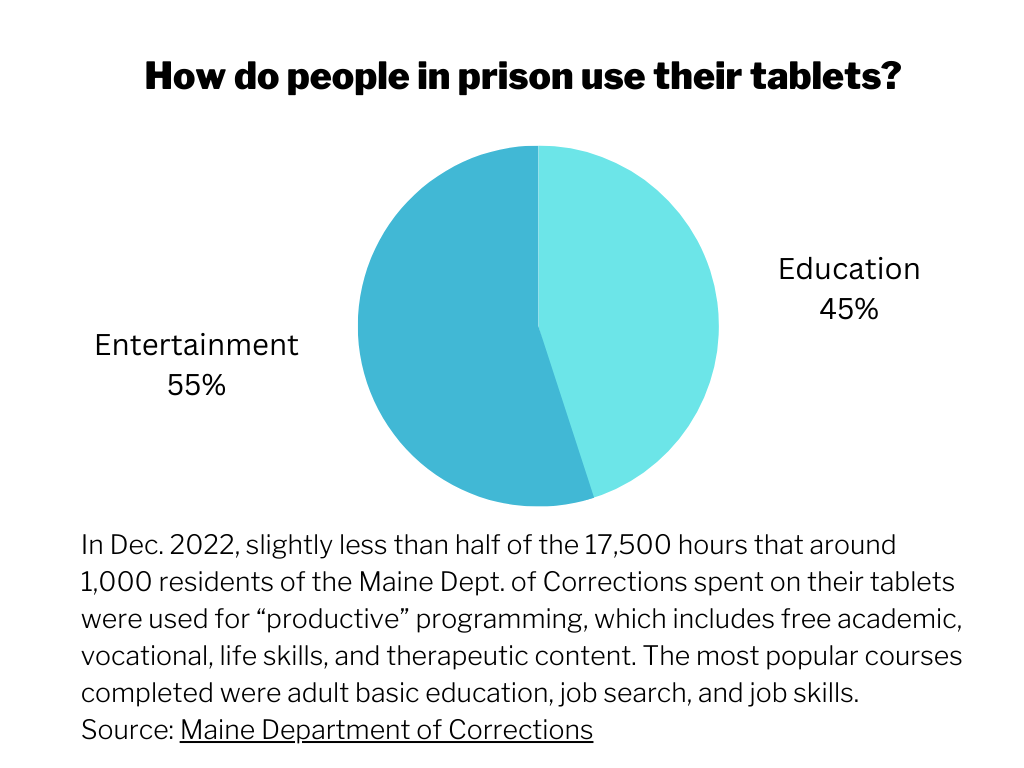 Short-lived success
The slender man in the photo is Glen McDermed, a marketing executive from IBM. In 1967, he proposed training incarcerated men how to program computers to meet growing industry demand.
IBM employees taught the initial classes to 11 men. Long-term prisoners eventually took over training to make the program self-sustaining, according to a 1970 cover story for Computerworld. Similar programs started in Oklahoma, New York, and Massachusetts.
But these training programs were sometimes short-lived, despite the benefit to individuals. Here's one example: After completing tech training in prison, William Short quickly found employment at an insurance company earning $13,400 a year (approximately $77,000 today).
But not long after Short's release in 1975, the prison program that had given him such marketable skills was shut down due to difficulties retaining an instructor, high costs, and staff resistance, the corrections commissioner told the Hartford Courant in an interview at the time.
By 1978, IBM's program suffered a similar fate. A new warden had phased out most of the educational programs at the Arizona State Prison because he "didn't understand them," as one man put it. "Under the guise of his security program, he put a stifle to the various programs around here."
Tech training 50 years later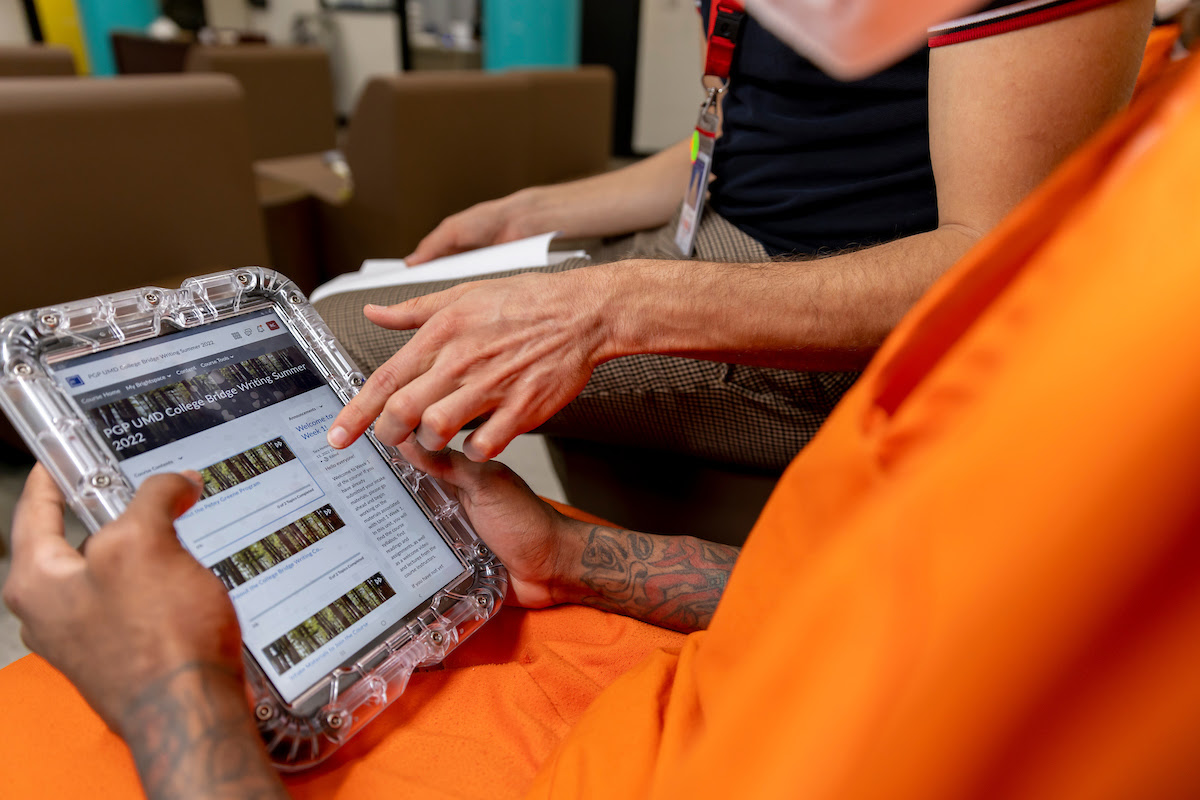 And in 2023, the benefits from tech training in prison remain much the same. One big difference? Keypunch coding has been replaced by cloud computing and javascript. In 2022, the D.C. Jail launched an Amazon Web Services (AWS) cloud certification in collaboration with prison tablet provider APDS.
Participant Leonard Bishop hadn't touched technology in the 17 years he served in the federal system prior to transferring to the D.C. Jail in 2018. When he first got a tablet, he said it took him a few days to figure out how to navigate through it, but then "I couldn't put it down."
Bishop said he was surprised by how easy it was to learn the skills he needed to earn the AWS certification. "It helps you transition back into society, especially for someone who has been gone so long," he said.
The average annual pay for an entry-level Amazon Web Services cloud practitioner position is almost $90,000, according to ZipRecruiter.
APDS supplemented the AWS pilot with face-to-face instruction and job skills training. But the hope is that the AWS curriculum, and other industry certifications, can be scaled to allow people to self-study on the APDS tablets, said Arti Finn, chief business development officer and co-founder.
Certifications are not enough
Some are skeptical that tablet-based training alone will translate into high-paying jobs. It's difficult to learn on a tablet, said Jessica Hicklin, who taught herself to code in prison. She's now the chief technology officer of Unlocked Labs, a Missouri-based non-profit that trains incarcerated software developers.
Unlocked Labs is trying to add the AWS cloud certification to their own training platform because the underlying knowledge is useful. But, Hicklin said, it would be difficult to break into the tech industry without direct connections to companies that engage in second-chance hiring.
There are other criticisms of tablets, too. While APDS has committed to providing its services to incarcerated people for free, other technology vendors routinely charge exorbitant prices for communications services and entertainment content.
The two largest tablet providers, Securus and ViaPath Technologies (formerly GTL), together supply more than 1 million tablets to U.S. prisons. That means around half of people in U.S. prisons currently have some kind of tablet access.
Just like in 1970, access to beneficial programs also remains contingent upon supportive prison administrators. In fact, many incarcerated students are reluctant to criticize online learning opportunities out of fear they will be taken away.
For instance, Colorado became one of the first states to roll out tablets to about half of its prison population five years ago. But just months later, prison authorities confiscated them. (The Colorado Department of Corrections did not respond to multiple requests for comment.)
Today, most people in Colorado prisons still don't have tablets. And across the country, the question posed in the IBM ad back in 1970 — "Could there be a future in computer programming for prisoners?" — remains unanswered.
++Another version of this story on tech training in prison was published in Future Tense, a partnership of Slate, New America, and Arizona State University that examines emerging technologies, public policy, and society. Subscribe to the Future Tense newsletter.
News & views
In what might rival the oft-cited 2014 Rand study, the Mackinac Center for Public Policy released in January a summary of the largest meta-analysis of the positive impact of prison education and workforce programs. Those programs reduce the likelihood of recidivism by almost 15 percent, professors Steven Sprick Schuster and Ben Stickle of Middle Tennessee State University found in their review of published research. They also found positive employment benefits for formerly incarcerated people, including a 7 percent increase in the likelihood of employment and an extra $131 in quarterly wages.
People incarcerated for nonviolent offenses in Colorado could earn time off their sentence if they get a college degree or credential, writes Jason Gonzales for our partner Chalkbeat Colorado.
Debt relief for incarcerated and formerly incarcerated people is stymied by a lack of information, access, and political will, writes Tamir Sarai for Prism Reports.
Pell in Prisons: The Gap Between Hope and Reality
Lots of people are dreaming of taking advantage of new college opportunities in prison as Pell eligibility returns this year for incarcerated students. But there are gaps in information, in preparation, and in who will actually be able to enroll in college programs.
What will it take to close those gaps? Join us for an online discussion with formerly incarcerated students and college and corrections officials preparing for the return of Pell.
Speakers include:
• Rahsaan "New York" Thomas, journalist, podcaster, director, and founder, Empowerment Avenue
• Stephanie Gaskill, fellow, Jesuit Social Research Institute at Loyola University New Orleans
• Cris Fanning, education director, Kansas Department of Corrections
Sign up here for the event, held on Feb. 28 from 3–4:30 pm eastern.
Let's Connect
Please connect if you have story ideas or just want to share your experience with prison education programs as a student or educator. You can always reach me at charlotte@opencampusmedia.org or on Twitter at @szarlotka. To reach me via snail mail, you can write to: Open Campus Media, 2460 17th Avenue #1015, Santa Cruz, CA 95062.
We know that not everyone has access to email, so if you'd like to have a print copy College Inside sent to an incarcerated friend or family member, you can sign them up here. We also publish the PDFs of our print newsletter on the Open Campus website. There is no cost to subscribe to the print edition of College Inside.
Interested in reaching people who care about higher education in prisons? Get in touch at sales@opencampusmedia.org or request our media kit.