Welcome to Mile Markers, a bimonthly newsletter about rural higher education. I'm Nick Fouriezos, an Open Campus national reporter who grew up at the crossroads of suburban Atlanta and the foothills of Appalachia.
Mile Markers
Sign up for the newsletter
A biweekly newsletter about higher education and rural America. By Nick Fouriezos.
Today's Roadmap
01: Postcards: The student housing crisis is getting weird.
02: Roadside Attractions: Expanding the rural Black record.
03: In the Sticks: Are students about to get sent to sea?
01: Postcards
Housing insecurity has long been an issue in rural areas, but high inflation, pandemic migration, and last year's record-breaking real estate market have created an untenable situation at rural campuses across the country.
In Moorhead, administrators at Minnesota State Community and Technical College have heard of students living on frozen lakes, in makeshift camper communities that double as ice fishing huts.
"I know we have students living in 'Ice Castles,'" Carrie Brimhall, the president of MSCTC, told me in January. While rents are reaching new highs for the region — students now can't find rooms for less than $600 — the problem isn't just price. There simply aren't enough rooms available.

"When the housing market was so crazy, the people who had rented to students sold their properties. Not every buyer kept them as rentals, so now students don't have a place to live," Brimhall said. "Even if we start a new destination program, it's hard to find places for students to live so they can take it."
And it's not just the Midwest. Just a month ago, I wrote about Cal Poly Humboldt, which recently received more than $450 million in state funding to add new STEM courses after becoming the only polytechnic university in Northern California last year.
The coastal university is in the middle of a large media campaign — part of the reason why I heard of them — as it pursues an ambitious plan to rapidly boost its 5,700-student enrollment by 50% in the next three years.
Those plans may all sound good in a vacuum. But the university doesn't exist in a vacuum.
It exists in a region where the environment is cherished by both its students and its local community, including the oceanside towns of Arcata and Eureka.
And it's already struggling to meet the basic housing needs of the students it has, not to mention those to come.
As Oden Taylor, a Cal Poly Humboldt junior, writes in a recent piece for the College Journalism Network at our partner newsroom CalMatters:
"When students decide to attend Cal Poly Humboldt, they likely see themselves living in the forest among the state's largest redwood trees, high enough on a hill that they can see Humboldt Bay and the ocean in the distance. They probably don't picture studying from a motel or a floating barge."
Yes, a floating barge.
In the second half of this newsletter, I'll talk to Taylor about his reporting on the housing crisis that Cal Poly Humboldt faces amid its massive expansion plans, the pushback it's getting from locals, and whether students are actually about to get shipped off to sea.
But before I do that, I think it's worth saying something out loud.
This isn't normal — and universities shouldn't pretend like it is.
02: Roadside Attractions
Wyoming removes barrier to online learning. The new law, signed by Wyoming Gov. Mark Gordon this week, will treat distance education and in-person classes equally when it comes to how the state reimburses its community colleges, making it easier for educators across the state to make courses more accessible.
"It is absolutely the right thing to do philosophically. In this day and age, the need for classes to be offered in person and via distance is necessary, especially in our very rural state," Northern Wyoming Community College District President Walt Tribley said.
Telling the stories of Rural Black Americans. The Daily Yonder recently published this fascinating interview with historians Yulonda Eadie Sano and Dr. Cherisse Jones-Branch, whose Rural Black Studies Series (published by the University of Arkansas Press) seeks to "expand the historical record on rural Black people who opted out of the Great Migration, or otherwise ended up in rural spaces outside of the South."
First-year rural students chime in. The student newspaper at Williams College spoke to students from rural communities about their decision to attend the rural Massachusetts liberal arts college (and, fittingly for this newsletter, it includes a Eureka native who chose to make the more than 3,000 mile move from Humboldt County).
Pell in Prisons
Join my colleague, Charlotte West, on Feb. 28 for an online discussion about the return of Pell funding to incarcerated students. It's an important topic, and it matters for colleges and prisons in rural areas. Register here.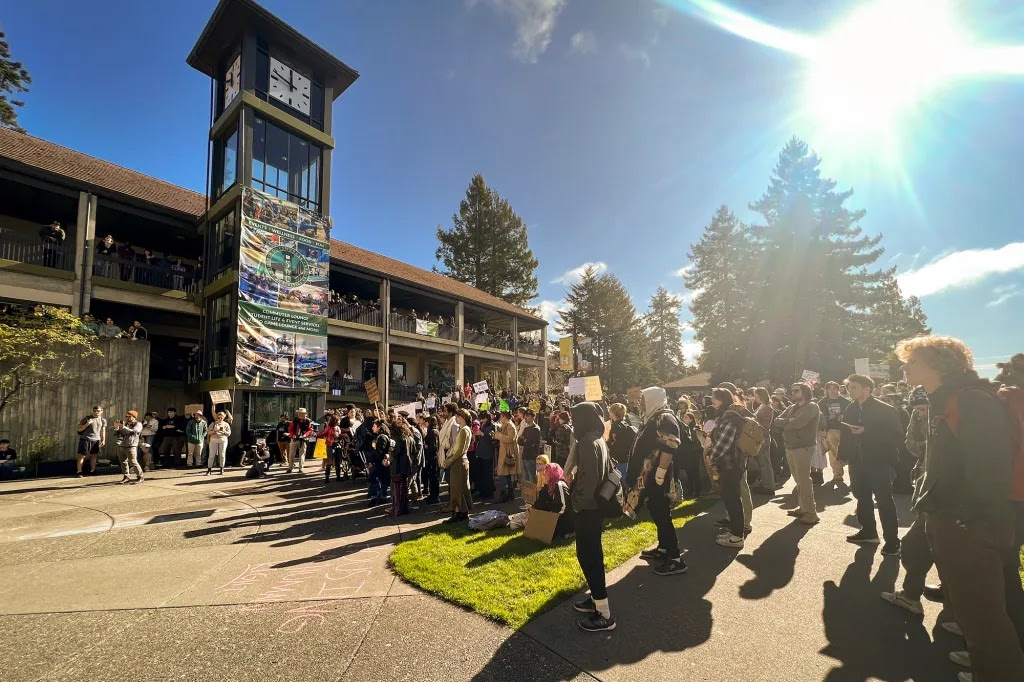 03: In the Sticks
The first Saturday of February, Cal Poly Humboldt quietly updated its housing website. Incoming first-years would have priority for all on-campus housing, the university revealed.
The move sparked instant protests, a petition from parents demanding that enrollment increases halt and even the formation of a new student organization — Cal Poly Homeless — to address the changes, as Taylor reported.
"When the update was first made, it seemed to some students like there would only be 100 spaces for 1000 returning students," Taylor told me in a recent phone call interview. Taylor decided to attend Cal Poly Humboldt in part because it was more affordable to attend school and live there than in his native Sacramento.
The university has since said it would find on-campus beds for roughly half of those 1,000 returnees. However, many Cal Poly Humboldt students are worried that those solutions will be far from ideal.
"We have all these housing projects in the works, but it takes a few years, and students are coming before those are done," Jenn Capps, Provost and Vice President for Academic Affairs at Cal Poly Humboldt, told me in January.
She told me then that hotels would be a key part of their plan, and since we spoke, the university has signed contracts with the Comfort Inn, Motel 6 and Super 8 to provide about 350 beds to its spillover students.
"This is not a big city, where there is adequate public transportation," says Taylor. "Everything is very small."
One student Taylor spoke to worked across the street from the Motel 6, and said she always felt outside of the hotel because of the large homeless population — and that she once witnessed a man attacking a woman … with a sword.
"This is not an adequate place to house students ever, unless they are going to address the homelessness issue," Berglund told Taylor.
Yet student activists aren't just worried about their off-campus or off-shore options.
"What surprised me was the amount of complaints about on campus housing, including complaints of black mold in current dorms," Taylor says. "Many students have brought up issues of sexual assault they felt like weren't being handled properly."
One example of how intense this standoff is: When reporting emerged about the potential barge, a rumor spread among students that the barge used to be a correctional facility, Taylor says … with students quickly piling on by posting memes about being imprisoned at sea.
"There is this sense that people will be trapped on the boat and the food will be terrible," Taylor says.
What it underscores to me — and something I've heard over and over again in my reporting — is how housing insecurity can cause existing tensions to rapidly escalate.
"There are so many problems with the infrastructure at the school already," Taylor says. "People don't trust that it will be nice."
The university's decisions have contributed to ongoing tension between the college and its surrounding community. Students are often the target of that rift — for example, Taylor says many Humboldt County landlords outright refuse to accept cosigners, an atypical policy that shuts many students out of the local rental market.
Still, students may actually share more in common with the townies than one would think — and both populations have significant concerns about Cal Poly Humboldt's rapid expansion plans.
"I don't know that some of the old heads in the community understand how much the students do want to keep it nice, and that the administration is what's really pushing for this," Taylor says.
"So many of us want to stay here, and want to live here."
Interested in reaching people who care about rural higher education? Get in touch at sales@opencampusmedia.org or request our media kit.
Support my work with a donation to Open Campus. You can also help by sharing this newsletter with your friends. They can sign up for their own copy here.